Bubblelicious Bracelet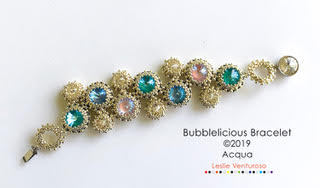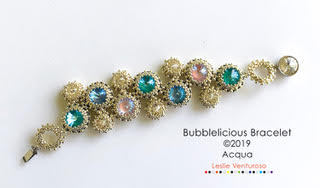 Bubblelicious Bracelet
BUBBLELICIOUS BRACELET
Saturday, November 2, 2019 - 1 to 6 PM
Light up your wrist with this delicious Bubblelicious Bracelet. Wear tropical rainbow bubbles or sparkling champagne bubbles—it's happiness on your wrist everyday! Each component is made using peyote stitch and right-angle weave. The kit contains enough materials to make 2 extra peyote rings if needed for wrist size.
Students will Learn: How to bezel Swarvoski rivolis and chatons using peyote and right-angle weave stitches. They will also learn how to make a peyote ring; connect all the elements in a pleasing pattern and add a clasp.
Prerequisites: Peyote stitch and right-angle weave stitch. Skill Level: Advanced Beginner.
Kits will be available in 5 colorways: Gold Rainbow, Silver Rainbow, Tri-Color Gold, Acqua/Silver (Blue/Teal/Lavender), and Sorbetto/Gold (Pink Peony, Peach and Sunshine)
Participants may purchase one kit at the discounted price of $75.
Kits include Aiko cylinder beads, Toho seed beads, 12mm Swarovski rivolis, SS39 Swarovski chatons, and a Claspgarten clasp.